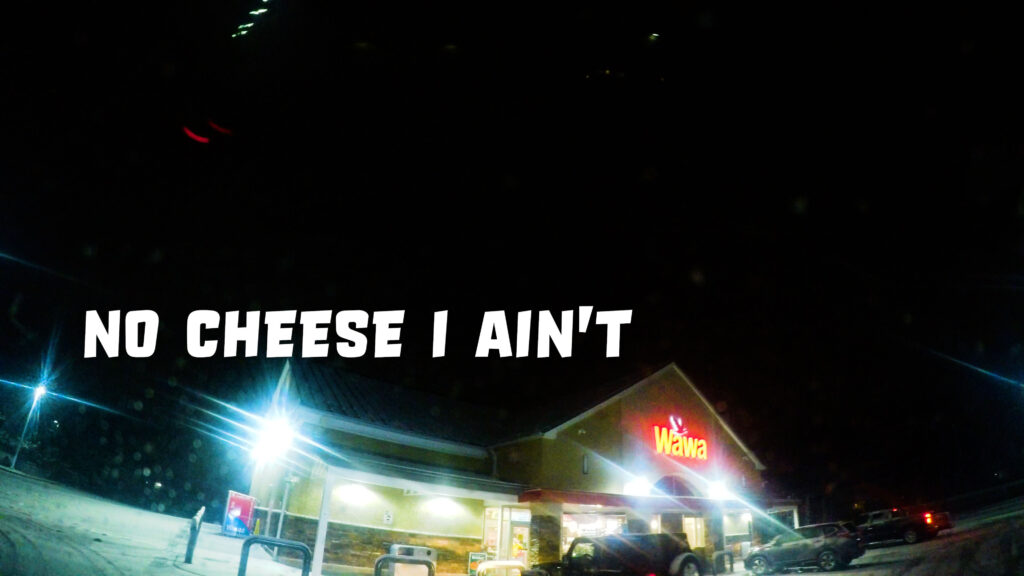 Anti Cheese Lyrics Video
We have a new video release! Anti Cheese Lyrics Video released on February 11, 2021.
Savvy Turtle just don't get it. We're in group therapy and he's tryna convert me to like cheese. But I'm Anti Cheese to I ain't having it.
Watch Anti Cheese Lyrics Video below:
Here's another frame from the lyrics video showing the snowy covered street when we were hit with the bomb cyclone. It was a snowy night when this video was filmed in South Jersey on Route 45 in Woodbury Heights, NJ as Mrs. U Do It and I drove to Wawa to grab some snacks and coffee.  Wawa is my go to for snacks and coffee.
Having learned from my previous Lyrics video where Savvy Turtle challenged me to do better I switched up this video to include some animations and gradient filled text. And that's how we ended up with the Anti Cheese Official Lyrics Video.  Here's a second frame from the video driving down route 45 in Woodbury Heights, NJ where the Hollywood Cafe is on the right.  The Hollywood Cafe is one of our favorite spots.
Again, this has been a rewarding experience for me and wouldn't be possible without the help of Savvy Turtle. Granted a lot of hard work and late nights involved and it wasn't a cakewalk, nonetheless it was rewarding. If I had to do it all over again I would. I certainly enjoyed the journey and it is getting easier as we have implemented a lot of "Set and Forgets" as Savvy calls them.
You can also watch the Anti Cheese Official Lyrics Videos on Facebook.
"No Cheese!!!"
#NoCheese #BigginzGroupTherapy #HQ #BigginzGroupTherapyAlbum #AntiCheese #HoldTheCheese #Cheesetubator #CheeselessMastication #UDoit #NoCheeseRecords #Hiphop #CheeseTrauma #NoCheeseAnthem #OfficialLyricsVideo